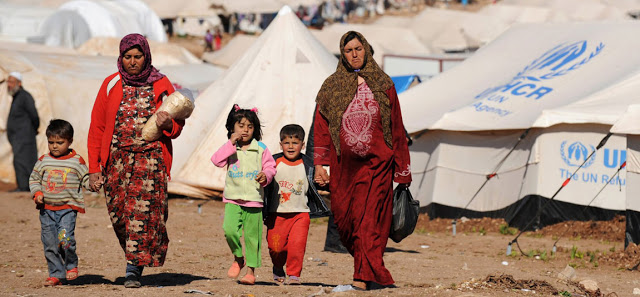 Photo courtesy: HIAS
"No one leaves home unless home is the mouth of a shark."
– Warsan Shire, Teaching My Mother How to Give Birth
Being a refugee is perhaps one of the hardest things anyone can go through. Being a woman and a refugee is worse. Like all spheres of life, every step comes with an additional burden for women – be it finding emotional, physical or financial security. And security, my friend, is the most important thing when you have left your motherland in search of a safe haven.
In Part 1 of this series, "In Search of a Safe Haven", we brought to you the struggles of LGBT refugees while seeking asylum in foreign nations. In this second part, we would like to draw your focus to the plight of women refugees who brave evils of their birth land to set out on a journey that is fraught with uncertainty and dangers at every step. Many of them come from conservative societies where they were never allowed to venture outside the bounds of a patriarchal home. When they finally had to leave their countries, the sense of homeland had completely vanished.
According to data from the US Department of State's Refugee Processing Center, out of the 15,479 Syrian refugees admitted to the United States in 2016, about 25 percent were girls over the age of 14 or women.*
So what happens when these women refugees finally reach the shores of  new country? They leave the war far behind, but then begins their tryst with a set of new challenges.
1. Reversal of traditional roles leading to domestic violence:
While seeking asylum, a lot of men are unable to find employment easily. This happens due to lack of the right skill sets or simple legal issues with documentation. As a result, their traditional role in the family gets overturned, leading to frustration and desperation. This is turn gets turned into violence towards their women and children.
2. Financial burden to fend for kids:
When men are left jobless, women are left with no option but to venture out in search of employment to fend for the kids. These women who have never worked in their lives easily get trapped into prostitution and trafficking. Once trapped in such rackets, it gets even more difficult for them to get any legal help.
3. Communication barriers :
Communication is a key challenge for women refugees who try their hand at looking for decent jobs. Most of them cannot pay the steep fees to translators. Not knowing English also becomes a hindrance while seeking asylum as they are unable to communicate their stories clearly.
4. Emotional and social insecurity :
Women refugees tend to be vulnerable not only in the outside world but within their camps as well. A lot of these women are left alone having lost their husbands, fathers and brothers to war or forced migration. These women become baits to scavenging agencies, fellow refugees or employers who take advantage of their situation, leaving them emotionally ripped, insecure and unable to trust anyone.
Refugee coordinators and aid workers are of the opinion that while dealing with women refugees, an extra layer of sensitivity and trust is of utmost importance. It's absolutely crucial to heavily guard their privacy not only for their emotional and mental health, but also to prevent their information from falling into the wrong hands.
Like Mia Kirshner beautifully described in "I Live Here":
"My mother used to say that rain here pours like a blessing, like a thick veil that parts to reveal the bride's face. But nearly every day, when this rain parted, it revealed a long line of soldiers, like you, like death, marching toward us, and we would scatter with a practiced silence and hide."
At Ladon, we work with some of the most trusted language assistant who know how important it is to get the story right. Most of our language assistants work with us because they believe in the cause of bridging the communication barriers that divide the world. The rest of them have a personal story that makes them want to help asylum seekers and other diasporic communities who struggle to find a foothold in the United States.
We believe women refugees have hard stories to tell, stories that the world needs to know, stories that can grant them the right to live with dignity in a free land. Like the women in free, western countries, these ladies also deserve a life of fulfilment and security. We can parade our streets with banners of feminism but we, as womankind, can be called true feminists only when we do our bit to empower other women. And who else makes a better case than women refugees from across the world!
Get to know us better – Join our readers on our blog here.